Your Baby At 8 Months
Some of the things you might see from your baby this month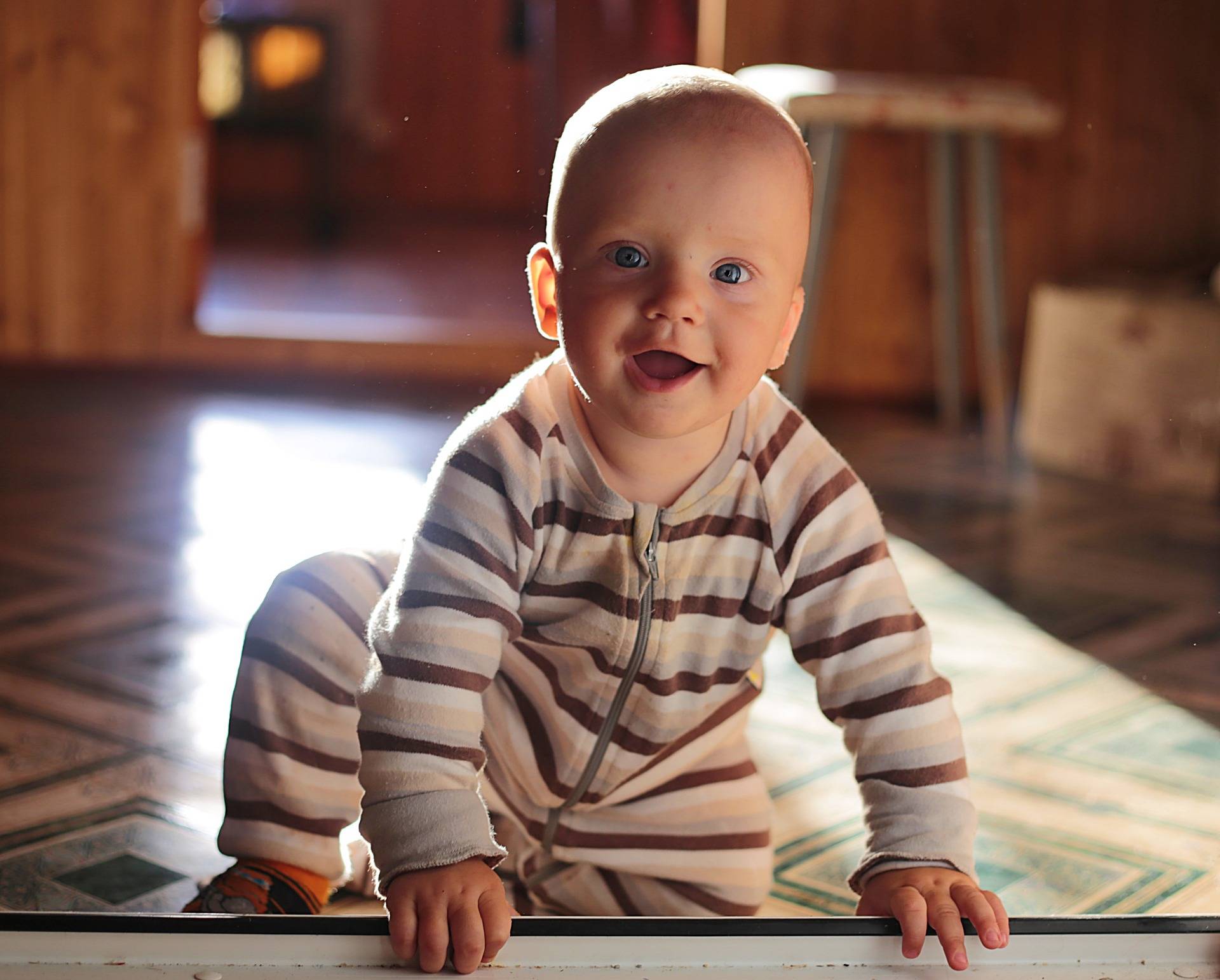 It's busy work being an 8-month-old, and this month your baby will be into everything. Learning new things, exploring the world, enjoying play time and starting to move around, you'll definitely be kept on your toes!
Will my baby crawl this month?
Your baby may have been showing signs of getting ready to crawl – like pushing up onto all-fours and rocking forwards and backwards– for some time now, but this could be the month when all that practise pays off. Whether it's crawling, bottom shuffling or commando crawling, chances are your baby will find a way to get moving. Remember, every baby hits these milestones in their own time, so don't worry if yours isn't quite there yet.
As their legs get stronger, you might see your baby try and pull themselves up into a standing position, using you or some furniture as some support. At the start your baby is likely to be quite wobbly, so stay close by as they work on this new skill.
Keeping baby safe
You may have already started baby-proofing the house, but with these new developments it makes sense to make sure heavy furniture, like a chest of drawers or bookcase, is secured to the wall so they can't topple over when baby tries to use them to pull up. Also think about covering any sharp furniture edges with round, rubber stoppers, to prevent painful bangs to the head or face.
It's a time of great discovery for your baby, and unfortunately some bumps and falls are going to be inevitable. Of course, the last thing you want is for your baby to hurt themselves but try and relax a little and let your baby explore the world, grow and learn new things, without jumping in every few seconds.
Getting attached
Do you have a baby who won't be parted with one special soft toy? It's common by 8 months old for your baby to have chosen a favourite toy as a security object – whether it's being cuddled, gnawed on or just carried around. Some babies aren't as fussed and will switch from one cuddly toy to the next, but if your little one does have an obvious favourite they can't bear to be separated from, it's worth searching for a duplicate, just in case anything happens to the original (or you need to throw it in the washing machine occasionally!).
Showing love
Your baby's emotional development is coming on, especially as they are able to express their feelings a bit better than before. At 8months your baby might blow kisses to people they are excited and happy to see, or even wave goodbye. Babies also may start to show the early beginnings of empathy, with 'reflexive crying' – where they cry or whimper in response, when they see another baby cry.
Finger food
As your baby begins to master the pincer grasp and settles into eating solids, it's a perfect time to include plenty of finger foods. Your8-month-old will love feeding themselves – or attempting to, at least! –so offer lots of safe, easily gummed, finger foods like ripe banana or well-cooked carrot batons. A word of warning though – at this age, many babies will discover this new control over their hands and fingers means they can drop and throw things, for you to pick up, including food. Funnily enough, it's a game babies never seem to tire of!
Things to try with baby this month
- Make a treasure basket for your baby. Fill a basket or box with all sorts of baby-safe household objects for them to explore – wooden spoons, whisks, clean tea towels and plastic cups all work well.
- Build a tower using soft blocks then let your baby work on those gross-motor skills by knocking them down with their hands and feet.
- Stacking cups are great for 8-month-olds as they begin to understand how objects relate to one another. They'll soon workout that smaller cups fit inside the bigger cups.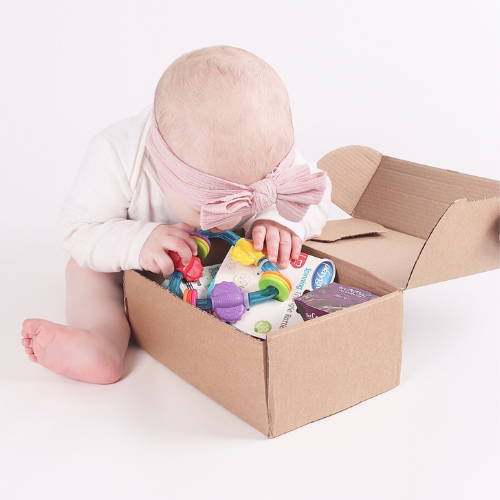 Little Fawn Box is a monthly subscription box for Mum and Baby, from her 20th week of pregnancy, right up to when baby is 3 years old.
Our boxes contain 5 or more products, always with a value of over £30. Our subscriptions are a super fun and exciting way to discover new products and new brands that we know Mamas will love.
Our boxes are carefully tailored to suit your baby's stage (or pregnancy stage of course).