Your Baby At 6 Months
Exciting milestones your baby might hit this month
It's a big month for baby – not only do they celebrate their half birthday, but 6 months may well see many exciting 'firsts'.
Some babies can sit unaided from as early as 4 months, for others it might not happen until after 9 months, but on average most babies will master this at around 6 and a half months. Hooray for not having to make a cushion castle around them every day!
Even if your baby isn't quite there yet, it's likely they'll be able to sit in a high chair without any problems, which brings us onto the next memorable milestone…
Time for weaning?
By 6 months, your baby may be ready to move onto their first taste of solid foods. Before you begin weaning, your baby will need to be able to sit well with support, hold their head steady and be able to use their tongue to move food around the mouth and swallow.
Whether you decide to go for spoon-fed purees or baby-led weaning, your baby is about to enter an incredible new world of tastes and textures – just make sure you have your phone handy to video these first tastes, and your baby's hilarious reaction!
To begin with, you should introduce solids just once a day, alongside their usual breast milk or formula, before gradually building this up. It may feel like a minefield working out what and how much to offer baby, so speak to your health visitor before you begin. You'll also find a wealth of information on the NHS Start 4 life weaning website – www.nhs.uk/start4life/weaning
This is also a good time to introduce a sippy cup and encourage your baby to take sips of water with their meal.
On the move
Remember those days when your baby used to stay exactly where you put them? Well, those days will soon be a distant memory as all that tummy time starts to pay off and your baby discovers what it takes to get moving. At 6 months, your baby may be able to roll over in both directions and some may even be attempting to get around by crawling, bum shuffling or even a cute commando crawl across the floor. Don't worry if your little one isn't moving yet, it can take up to 10 months before they do start to crawl, and some babies miss this stage out entirely and go straight to cruising then walking.
Developing the senses
Your baby will love to explore their world using their senses this month. It's the little details that catch your baby's eye now, like buttons on your shirt or your earrings – and they'll happily gaze at these for some time, wondering what exactly they are and maybe even attempting to grab them with their fist. As well as this, at 6 months your baby will still love to touch different textures, hear new sounds and put whatever they can find in their mouth. Encourage this exploration in a safe way, by letting baby play with rattles and texture books, as well as gnaw on chilled or bumpy teething rings.
Feeling secure
By 6 months, your baby is familiar with the faces, voices and smells of those closest to them, and it may be around this time that stranger anxiety begins to appear. This is when your baby becomes upset around new people and may cry and cling on to you whenever they meet a stranger. This is all a perfectly normal part of development, starting around 6-8 months and peaking at 1 year old, before gradually going away. To help your baby through this, try and socialise them as much as possible, whether it's at baby groups or nursery. Reassure them you are close by and they'll soon grow in confidence.
Things to try with baby this month
- Babies are big fans of repetition, so they'll love it when you sing the same nursery rhyme over and over again. Pause in the middle of singing and your 6-month-old will eagerly anticipate what comes next.
- Now your baby is able to sit in the bath, whether in a bath seat or unaided with you no more than an arm's reach away, introduce them to the fun of splashing. Pass them a bath toy and then guide their hands and show them how to splash it in the water, it won't be long until they are copying the action.
- `With so much going on, don't forget to give your baby some downtime from all the excitement. A cuddle and a story before naptime, or a moment to lie on a playmat without the distraction of lots of toys will help stop sensory-overload.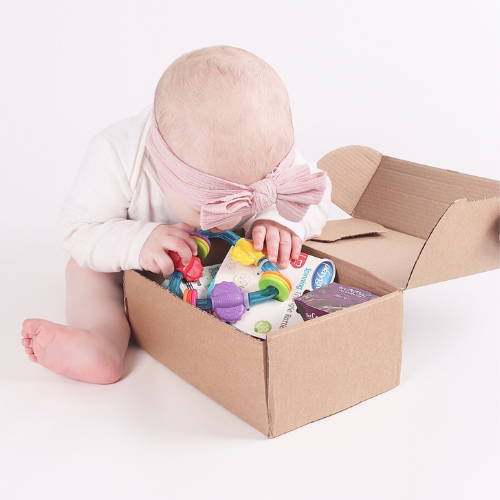 Little Fawn Box is a monthly subscription box for Mum and Baby, from her 20th week of pregnancy, right up to when baby is 3 years old.
Our boxes contain 5 or more products, always with a value of over £30. Our subscriptions are a super fun and exciting way to discover new products and new brands that we know Mamas will love.
Our boxes are carefully tailored to suit your baby's stage (or pregnancy stage of course).