Your Baby At 2 Months
What to expect from your baby at 2 months old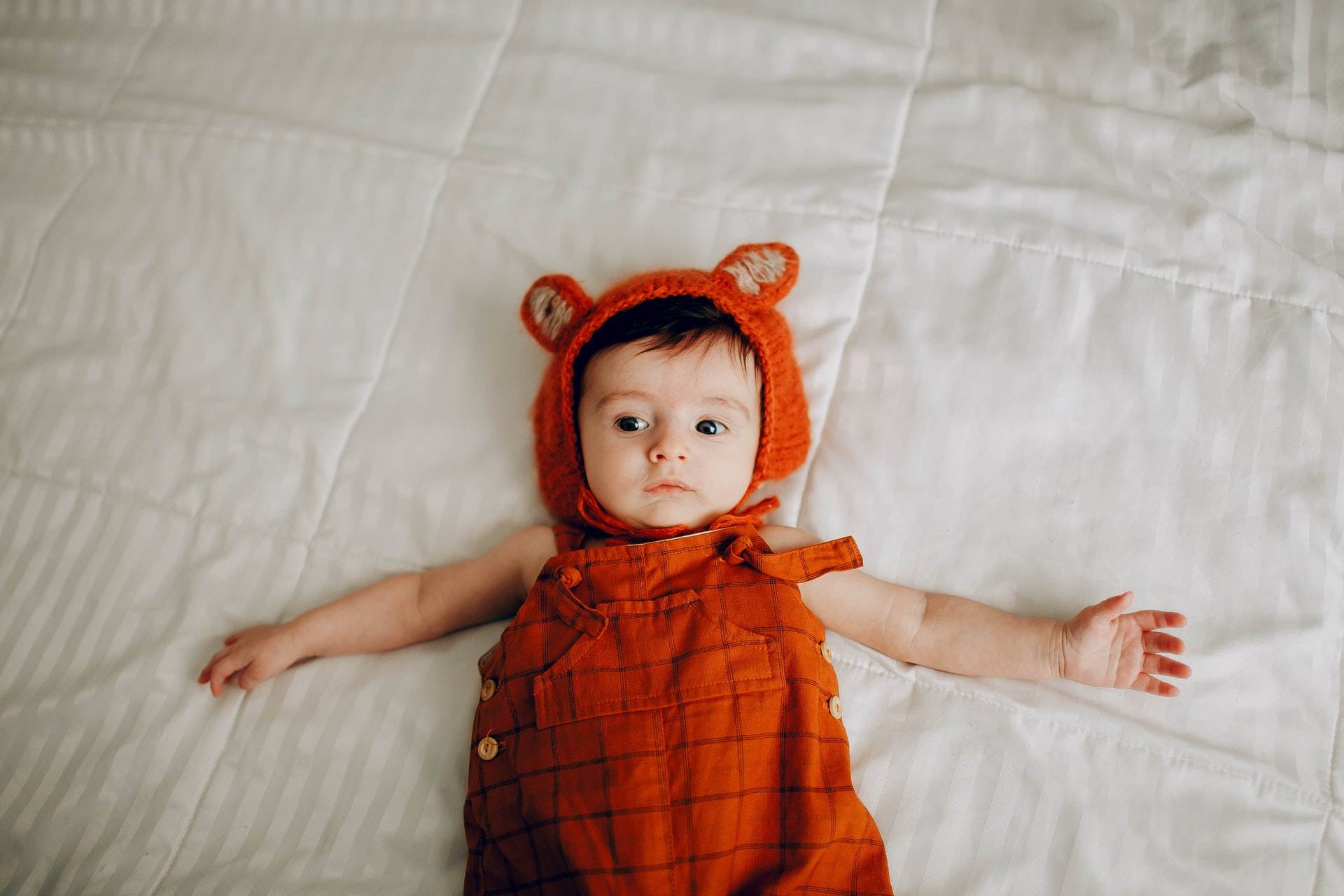 After all those months of pregnancy, the birth and then the hazy new born weeks, you're finally treated to one of the most special, memorable milestones– your baby's first smile! Prepare for your heart to melt as your little one rewards all of your hard work with the most adorable, gummy smile – and this time it's definitely not just wind! Once you've hit this development milestone, you'll do anything you can to make it happen again; kisses, funny faces, silly noises – you'll soon work out the best way to make baby break out into that perfect grin.
Baby's vision
Your baby's eyesight continues to develop, and they can now see about 60cm away from their face. Although baby still loves black and white images and toys, they are starting to distinguish between colours and will be drawn to bright, primary-coloured objects and pictures.
Sleep changes
Although it's very unlikely your baby is sleeping through the night at 2 months old, they will probably be starting to sleep for longer chunks of time, giving you a good 5-6 hours at a time before waking for a feed. As well as sleeping for longer periods, they will also be awake for longer stretches of time, which gives you more time to play and bond, as well as settle into your own kind of routine.
Baby's motor skills
At 2 months old your baby is starting to become a bit more coordinated, as the jerky new born arm and leg movements start to become smoother. You baby will love kicking their legs when they are lying down and will wave around their tiny fists to let you know they are excited. You might even notice baby rolling around from side to side – they won't be able to roll over fully just yet, but definitely keep a close eye on them when they are up off the floor, for example on a changing table. You never know when they will actually master that full roll, so always be aware.
Their neck muscles continue to strengthen, and your baby maybe able to hold their head up for a little longer during tummy time. Their little grasp is now stronger than ever, but a word of warning – they haven't quite worked out how to let go, so prepare yourself for some serious hair pulling, ouch!
Postnatal check
You and your baby should have a postnatal check at 6 to 8weeks. This will take place at your local surgery, usually with your GP or practise nurse. This appointment is to make sure you baby is healthy and developing well, as well as to check in on you and how you are doing/feeling. If you have had a C-section birth, your wound will usually be checked, and your GP may sign you off as able to drive again.
Similar to the new born check, some of the things your GP or nurse will do are:
- Weighing baby
- Measuring baby's length and head circumference
- Checking baby's eyes, hips, heart and genitals
This appointment is a good chance to talk about how feeding is going and to mention anything that has been worrying you. Don't forget to take your baby's red book (their Personal Child Health Record) along with you to this appointment.
First immunisations
Your baby will be given their first vaccinations at around 8weeks. It's a 6-in-1 vaccine, given as a single injection. It protects against:
- Diphtheria
- Hepatitis B
- Hib (Haemophilus influenzae type b)
- Polio
- Tetanus
- Whooping cough
Your baby will need three doses of this, given again at 12weeks and 16 weeks.
At this first appointment baby will also have an oral vaccine for RV (rotavirus). Rotavirus is an infection that causes diarrhoea and sickness. As the vaccine is live you will need to take extra care and wash hands thoroughly after any dirty nappy changes, for the next couple of days after your baby has this vaccine. This vaccine will be given again at 12 weeks.
The final vaccination given at 8 weeks is the MenB vaccine, protecting your baby against meningococcal group B bacteria, which can cause meningitis and sepsis. Baby will need further doses at 16 weeks and 1 year. It's recommended you give your baby liquid paracetamol after this vaccine, to reduce the risk of a high temperature. It's worth bringing this with you to the appointment, so it can be given straight away.
Before any of these vaccinations, the nurse will talk you through what will happen and will try and make it as stress-free for baby and you. Make sure you take your red book along to this appointment too. Of course, no parent wants to see their baby upset, but we promise it will be a lot worse for you than baby! Just try and put on a brave face and be there with plenty of cuddles once it's all over.
Things to try with baby this month
- Give them brightly coloured cloth books or plastic toys to look at and touch.
- Set up a baby gym with hanging toys, so baby can practise batting them with their arms and legs. Short 5-10 minute sessions work best to begin with – if your baby gets overwhelmed and upset just leave it for a week.
- When you're chatting with baby, leave time for them to respond. Creating this back and forth conversation really helps their language skills.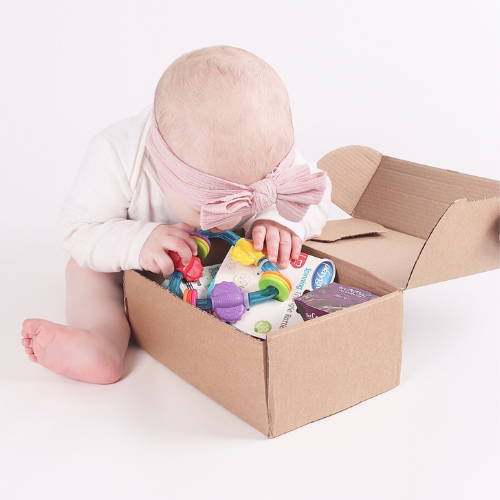 Little Fawn Box is a monthly subscription box for Mum and Baby, from her 20th week of pregnancy, right up to when baby is 3 years old.
Our boxes contain 5 or more products, always with a value of over £30. Our subscriptions are a super fun and exciting way to discover new products and new brands that we know Mamas will love.
Our boxes are carefully tailored to suit your baby's stage (or pregnancy stage of course).