Toy Rescue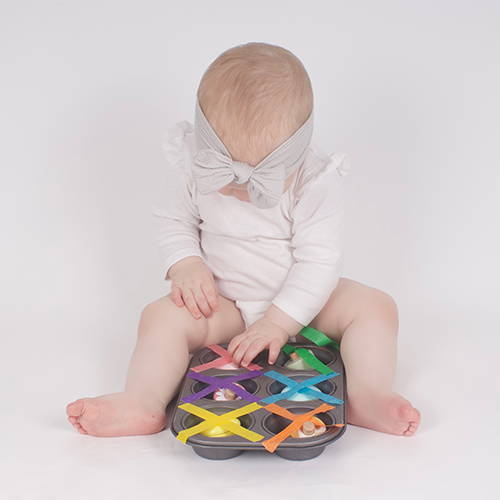 This fine motor activity uses a simple muffin tray and tape.

The Muffin Tray Toy Rescue activity is the perfect for those babies from 7 months onwards, who have their little fingers into everything, it's also a perfect toddler activity as it builds on those fine motor skills we keep shouting about, it's also a great source of sensory stimulation.
We can go on forever on what the Muffin Tray can be used for, but if you have animal figurines, poms poms, buttons or pretty much anything that will fit in the compartments, whatever you've got laying around your house. This activity is super easy to set up. The only thing you'll need is some tape!
To start simply pop your sensory items of choice in the muffin compartments. Then with your tape, place your tape in a diagonal fashion covering as many compartments as possible. Ideally you would want at least one criss cross of tape per compartment. Super simple!
Watch your child try to pinch and pull the tape off, they'll be practicing a pincer grasp (we talked about that one in the ball tape activity).
The stickiness of the tape will provide a new sensory stimulation which your child may not be used to, it also provides a good giggle moment as you watch them try to shake it off their little fingers!
For your toddler, an extension activity you could do is to describe the toy that they've rescued or prompt which "toy" they need to rescue next " can you save the red pompom?" "how about the rhino next to the blue car?" -it will promote and help with that positional language skill again!
You'll be surprised at how long this activity will keep your child occupied for!
Happy rescuing!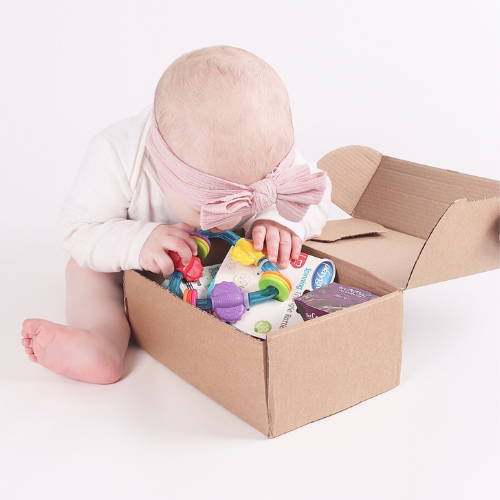 Little Fawn Box is a monthly subscription box for Mum and Baby, from her 20th week of pregnancy, right up to when baby is 3 years old.
Our boxes contain 5 or more products, always with a value of over £30. Our subscriptions are a super fun and exciting way to discover new products and new brands that we know Mamas will love.
Our boxes are carefully tailored to suit your baby's stage (or pregnancy stage of course).