Packing your hospital bag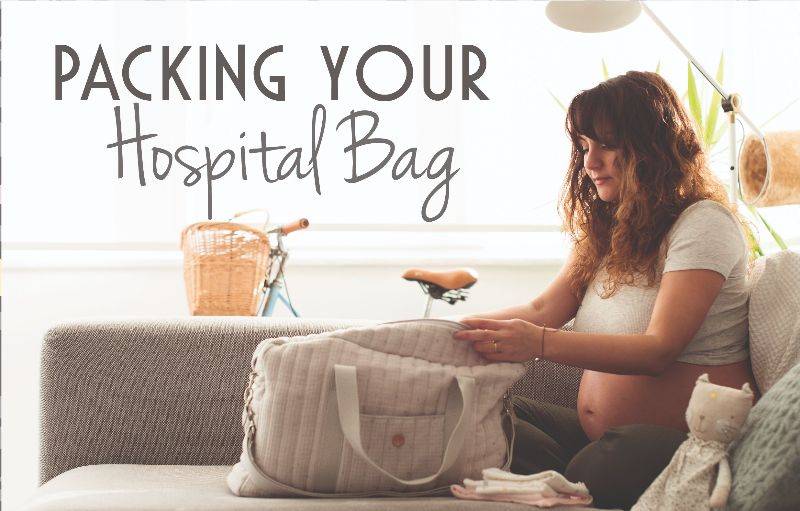 Packing your hospital bag with everything that you need for you and baby should be an exciting time in your third trimester, and a time that makes you feel like you are getting closer to meeting your baby. However; if you are like me then it is a job that you can just put off for another day. One of the main reasons people put off packing their bag is that they just don't know where to start.


There are lots of questions you have to ask yourself…. How long will you be in hospital? Will you have a natural birth or a C-section? What size will baby be? Will you be popping baby out and then straight back home for tea, or sticking around for a bit? Most of these you probably won't know the answer to, which makes packing a challenge. But my advice is to pack for every eventuality, it's best to have peace of mind and then it's one less thing to worry about.

There are plenty of these lists out there – but while some are very limited, some include packing the kitchen sink (and you will NOT be washing up after you have given birth).
So here is our list (with help from our followers) of what to include in your hospital bag…….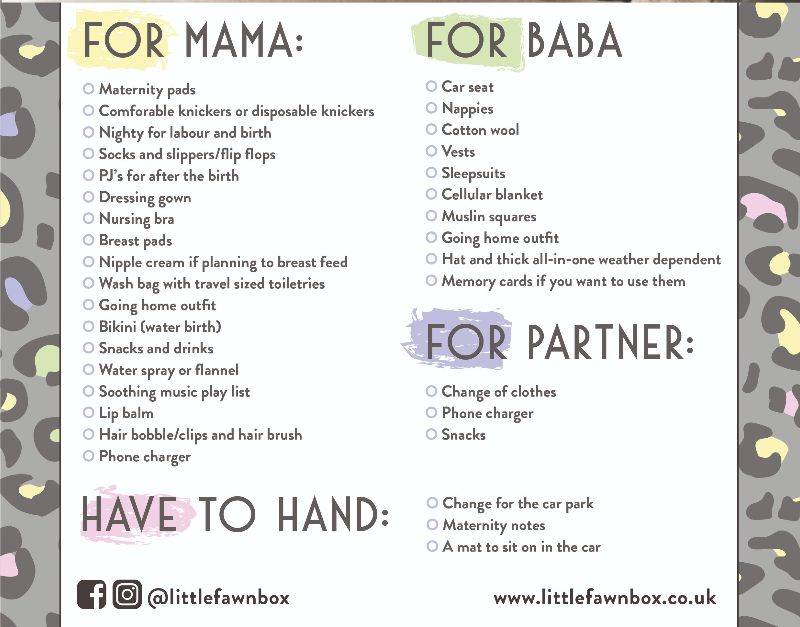 Have to hand:
• Change for the car park
• Maternity notes
• A mat to sit on in the car (just incase)
With baby number 2 I nearly gave birth in my husband's shiny brand-new car. Besides from ringing the hospital to tell them we were on our way, the only thing he kept saying was 'stop pushing; you'll ruin my seats' (or that's all I remember anyway). So even though getting his seat wet/soiled (sorry GRIM) would have served him right – I would still have to sit on it on the way home
For Mama
• Maternity pads (the bigger the better – they are very thick and uncomfortable and so some people say they prefer sanitary towels however these definitely would not have done the job for me)
• Big granny knickers or disposable knickers
• Nighty for labour and birth (a cheap one – you will NOT want to keep it afterwards)
• Socks and slippers/flip flops
• PJ's for after the birth (preferably dark coloured and easy to breast feed in if you choose to do so)
• Dressing gown (preferably dark coloured again)
• Nursing bra
• Breast pads (you may leak even if you choose not to breast feed)
• Nipple cream if planning to breast feed (you probably won't need this straight away but better to be safe than sorry – ouchy!)
• Wash bag with travel sized toiletries (shampoo, conditioner, face wash, shower gel, deodorant, moisturiser, tooth brush, tooth paste)
• Going home outfit (loose baggy and comfortable – unfortunately you won't just spring back and so you will probably still need maternity trousers for a while
• Bikini if you are considering a water birth
• Snacks and drinks (if you are there at night the hospital shops may not be open)
• Water spray or flannel to keep cool
• Soothing music play list
• And don't forget your partner, you may need a change of clothes for them too if you are there a long time, also phone charger and snacks. But you have enough to worry about – let them take care of themselves.


PLUS DO NOT FORGET THE LESS OBVIOUS
• Lip balm (gas and air can give you really dry lips)
• Hair bobble/clips and hair brush
• Phone charger
Lots of lists include books/kindle/magazines, however unless you are having a planned section and have lots of waiting around to do then I can't imagine you will get much reading done when you are in labour or once baby arrives (I didn't anyway).


For baba
• Car seat (leave it in the car until you need it - and make sure you have practiced putting it in the car and learnt how to use it)
• Nappies
• Cotton wool (baby's bum will be very sensitive and so cotton wool and water is recommended at first rather than baby wipes)
• Vests
• Sleepsuits (I liked the ones with the built-in scratch mittens)
• Cellular blanket (hospitals do usually provide them but you may wish to use your own. And you will need a blanket for the journey home)
• Muslin squares (these will be your new accessory of choice and you will wonder how you ever survived without them)
• Nice going home outfit
• Hat and thick all-in-one depending on the weather
• And OF COURSE, your Belo & Me milestone cards for those first photos!


So that's your list!
With baby 1 we were in hospital for about 9 days. Obviously this couldn't be foreseen, and I wouldn't have packed that much stuff anyway; but it's a good idea to make sure your partner or mum knows where you keep your clothes/hair dryer/make up just in case (hopefully you won't need it!) and of course plenty of clothes and nappies for baby.


If you would add any other items to this list then do let us know….. after all; everyone is different!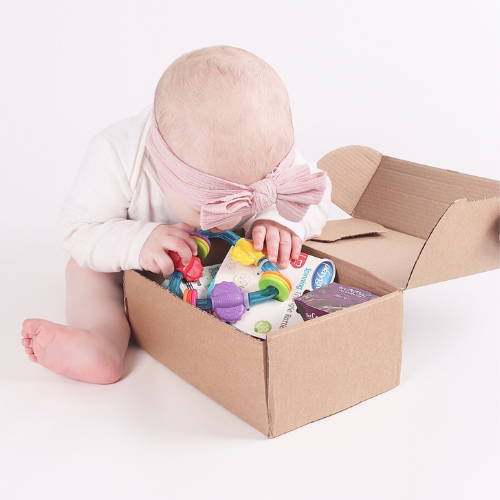 Little Fawn Box is a monthly subscription box for Mum and Baby, from her 20th week of pregnancy, right up to when baby is 3 years old.
Our boxes contain 5 or more products, always with a value of over £30. Our subscriptions are a super fun and exciting way to discover new products and new brands that we know Mamas will love.
Our boxes are carefully tailored to suit your baby's stage (or pregnancy stage of course).