Fall in love with baby massage
I was sceptical, "Come to baby massage, you'll love it!" they said. I wasn't sure.
As a first time mum with a brand new baby and no idea how to even leave the house, never mind be on time to a class, I reluctantly signed up, surely by the time the course started I'd have sorted myself out right? I've never been one for massages myself, I could never really justify the time or cost, but I always loved the feeling after if I was ever lucky enough to go for one.
I knew it would be good for my baby so I decided I was going to give it a shot, this little ball of love that had entered my life deserved it! And I'm pleased to report, I'm so glad I did. It turns out they were right - I did love it! I really enjoyed baby massage with both my littles. It's a fantastic bonding experience for you and your baby and I found it a really calming, relaxing time.
It helped to soothe both my babies so much so we even added it into our bedtime routine and it became a time I looked forward to in our day, just me and them, in our little bubble.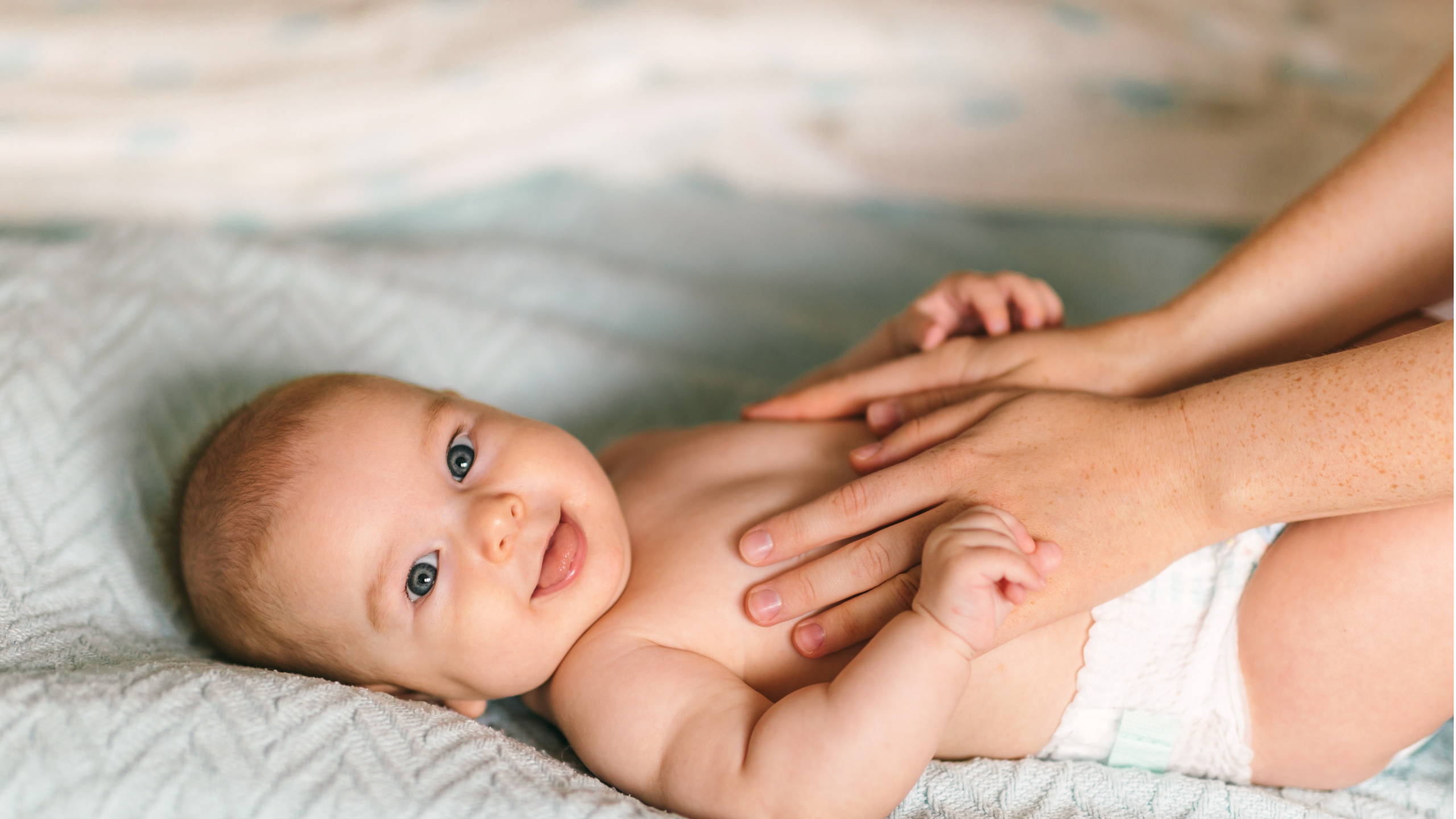 What is baby massage?

We signed up to an 8-week course at my local play centre that taught different techniques each week, which I was then able to do at home. My oldest took to it a lot easier, she loved being massaged and you could see she felt secure. My youngest took more persuasion in class, but he loved the one-on-one time at home when we'd work it into the bedtime routine. He struggled with wind and we really worked on the digestion aiding techniques and they seemed to really help him sleep better.
Babies love the simple sensation of touch as it gives them a feeling of comfort; wrapping them up in your arms is the instinctive thing you'd do to comfort them, so it makes sense that touch is a powerful tool when bonding with your baby. You can extend this 'touch' into other techniques that can have benefits from helping to ease teething pain to relieving the symptoms of wind.
You're taught to stoke your baby's body with your hands in a rhythmic action using gentle oils that help to reduce friction on your little ones soft skin. Singing along helps to keep the rhythm and keeps your baby's gaze locked to yours for added reassurance.
Baby massage stimulates the release of the happy hormone 'oxytocin', leaving both you and your baby loving those warm and fuzzy feels.
So where can I learn and what oil should I use?
The NCT website has a fantastic step-by-step guide that showcases the techniques you can use.It's important to use the right oil that's suitable for the skin of a young baby. The NHS recommend during the first month that you only use water on your baby's skin, so hold off on the oils until then. Once they're over a month, it's very much personal preference and your baby's skin type that will guide your choice.
Our April Little Fawn Box featured a great Omega Oil from Botanico Vida and is safe for use on babies skin. You can find it at www.botanicovida.com.
This amazing oil isn't just for your baby, it's great for us Mamas too! The award winning oil gently soothes and hydrates skin, and is vegan and cruelty free. It's perfect for using in baby massage but also boasts it can help to treat a whole range of family skin care concerns from dry skin to stretch marks, scars, during pregnancy, wrinkles and fine lines, rashes, cradle cap, red and irritated skin, after-sun, burns and as an all-round body hydrator.